Online safety
The internet, mobile technologies and social media all provide children and young people with vast opportunities for learning, communication and support.
However, increasing reliance on online technologies also makes children and young people potentially vulnerable to people seeking to exploit technology for malicious purposes.
Risks associated with the digital technology include:
Exposure to obscene, violent or distressing material
Bullying, coercion, or intimidation through email, messaging and social media ("cyber-bullying")
Sharing personal images without permission
Identity theft and abuse of personal information
Exposure to material concerning harm to health such as eating disorders, self-harm or suicidal ideation
Sexual exploitation by online predators (including grooming and sexting)
Parent Club's Child Online Safety campaign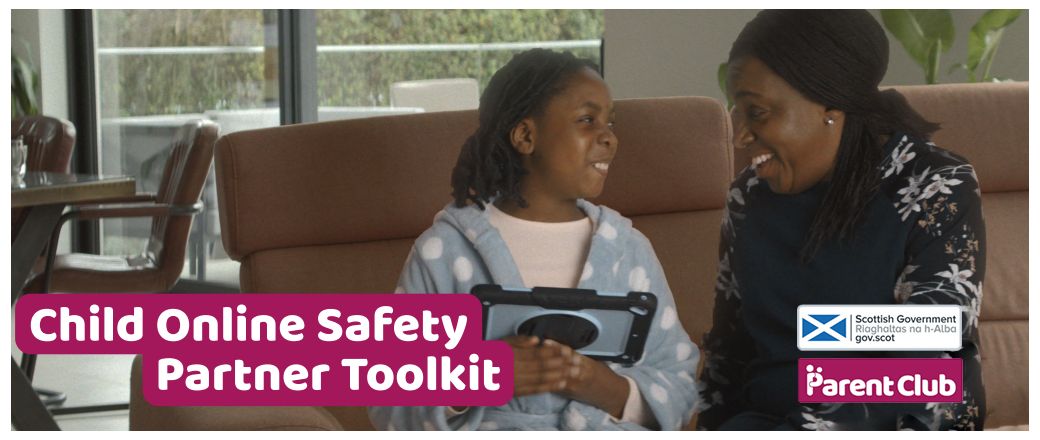 Parent Club offers up-to-date guidance from the Scottish Government on children's health and education. Read about their Child Online Safety campaign and find some practical ideas and advice to help keep children safe online.
#AskTheAwkward campaign
#AskTheAwkward has been created by the CEOP Education programme, a part of the National Crime Agency's response to tackling child sexual abuse. It helps families to navigate the digital world with secondary aged children and prepare for conversations with young people about online relationships and related topics. It also offers advice on how to keep conversations positive and what to do if your child tells you something that worries you.
Visit the #AskTheAwkward online resource here.
Key resources

Year: 2023 | Topic: Active implementation | Author: The Scottish Government
The Scottish Government has updated National Guidance for Child Protection in Scotland which was published in 2021.

Year: 2023 | Topic: Online safety | Author: Parent Club
This webpage offers parents information and advice on keeping children safe on the internet.

Year: 2017 | Topic: Online safety | Author: Scottish Government
This plan builds on actions set out in the Scottish Government's 2010 Action Plan on Child Internet Safety and the 2011/12 Scottish Action Pl…